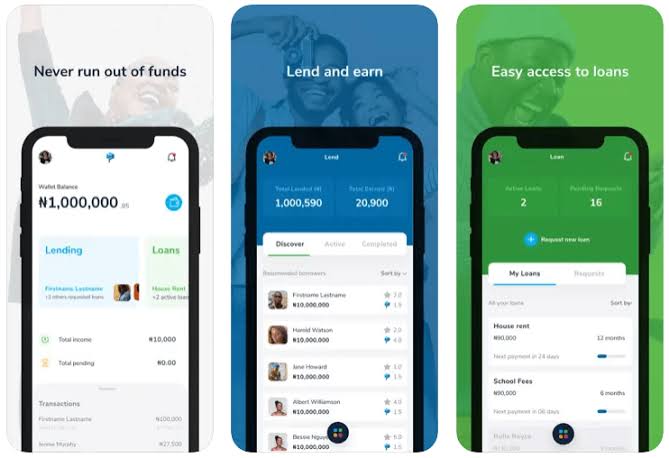 In terms of loan or lending services, there have been lots of loan apps developed and programmed to help with better market financing, while there are also loan apps that have not yet been programmed to support iPhone usage. This can be caused by different things, but one main factor is low-version programming. But in this article, I have not only written about loan app that are supported by iPhones and IOS users, but I have also taken my time to find the best ones. Without wasting much of your time, let's get to the details.
WHAT ARE LOAN APPS?
Mobile loan apps are applications that lending companies have designed to allow you to obtain a loan without the hassle of going to a bank or filling out paperwork. Therefore, in a few simple steps, you can obtain a mobile loan in Nigeria within minutes.
LIST OF BEST LOAN APPS ON iPhone IN NIGERIA
Here are some of the best loan apps in Nigeria for both iOS users, including loan interest rate and other information.  
1. PALMCREDIT LOAN APP
A Palm Credit loan ranges from as little as N2,000 to as much as N100,000, and you'll have the money in just a few steps. However, it requires that you are a minimum of 18 years of age and that you provide your bank account details. Also, aside from that, the app also gives commissions to customers for referring them to someone else
LOAN INFORMATION 
Loan amount ranges from 5000 up-to 100,000

Palmcredit interest rate ranges from 4%-4.7% monthly

The loan terms ranges from 14 days to 180 days 
Can iPhone users use fair money app?
YES You can fairmoney loan with your iPhone and get a loan with reasonable money, repay it within 15 to 30 days, and you can do so without putting up any collateral or other paperwork. You can pay for other utility bills using the app. In addition, fair money has one of the best services for obtaining a mobile loan in Nigeria, therefore, it is available any time of the day or week
LOAN INFORMATION 
Fair money loan amount ranges from 10,000 to 3,000,000

Their loan interest ranges from 2.5%-30% 

The loan term is 61 days as the minimum while 18 months for the maximum
 In Nigeria, carbon is among the best and most widely used applications for getting a mobile loan. It has a straightforward layout that makes it simple to use, as well as an accommodating application procedure that enables you to apply at any time of the day. Therefore, you only need to provide a few pieces of information to find out the status of your loan application in a matter of minutes. In addition to loan payments, the app also lets you buy recharge cards and make utility bill payments. To download the app, just go to the official Google Play or Apple Store websites.
LOAN INFORMATION
Interest rates range from 1 to 21%

Loan terms range from 3 months to 12 months

Loan amount: personal loan up-to 1000,000 while business loan is up-to 20,000,000
4. BRANCH Loan App
The Branch loan platform is also one of the most popular loan apps for students in Nigeria, and the greatest part is that it operates not only in Nigeria but also in Kenya, Mexico, and India. This signifies that a globally recognized branch allows you to easily access loans for your needs at any time and from any location.
Sign up in seconds, apply for a loan, and have your funds put into your bank account. It's a quick, simple, and dependable way to receive cash, even in an emergency.
 LOAN INFORMATION
Interest rates range from 3% to 21%

Loan terms range from 4 to 40 weeks

The loan amount is 

₦1000 to

 

₦1000
5. PALMPAY LOAN APP
For iPhone users in Nigeria, Palmpay is another well-liked loan app. Similar to Kuda, the app is well known as an online banking tool that enables users to send and receive money, pay bills, purchase airtime, invest, and do many other things.
Palmpay offers a lending service called Palmpay Flexi Cash, so iPhone users can also use it to apply for loans. Based on your credit history and score, this service offers a manageable loan amount. The better your credit score, the higher the loan amount you'll be offered. Flexi Cash loans last from 15 to 30 days and have an amazing interest rate.
LOAN INFORMATION
Loan Amount: ₦1,500 and above

Interest Rate: 0.70% or more daily

Loan Tenure: 15 to 30 Days

Requirements: PalmPay Account

Repayment Methods: Palmpay Wallet Fund and Debit Card
6. KUDA MFB App
Kuda is a well-liked online banking app in Nigeria, similar to Palmpay. You can download the Kuda app from App Store, and use it for various banking transactions such as money transfers, bill payments, and lots more.
Kuda offers a loan service where you can easily get an instant loan without collateral or a guarantor, so it can also be used as a loan app for iPhone users.
LOAN INFORMATION
Loan Amount: Up to ₦50,000

Interest Rate: 0.3% Daily

Loan Tenure: Up to 90 days

Requirements: Verified Kuda Bank Account

Repayment Methods: Kuda Bank Account Fund
Another peer-to-peer lending app available in Nigeria for the iPhone is KiaKia, you can quickly apply for a loan through KiaKia by downloading the app from the App Store, creating an account as a borrower, and connecting with a lender who accepts your loan request.
The loan will be disbursed into your bank account immediately after that is finished and all requirements have been satisfied.
Loan Amount: ₦10,000 to ₦10,000,000

Interest Rate: 15% Monthly

Loan Tenure: 1 – 3 Months

Requirements: Personal Details & Bank Details

Repayment Methods: Wallet Funds, Debit Card & Bank Transfer.
OKash is a microfinance product offered by Blue Ridge Microfinance Bank. Users may download OKash from Google Play and set up their loan account in seconds, select their desired bank account, add their active bank card for repayment, answer a series of questions, and receive a decision on their loan application in minutes without the need for any documents.
Another component that Okash excels at is loan cancellation. The Okash loan cancellation process can assist you in returning money taken within 24 hours after loan approval, as it is also mentioned to contact their customer service immediately.
LOAN INFORMATION And Interest Rate
Loan amounts range from

NGN 3,000 to NGN 500,000

Loan interest rates are calculated on daily basis

Loan repayment terms range from 91 days to 365 days
CONCLUSION
There are still certain loan applications that function on iOS, even if the majority of loan apps in Nigeria are mostly for Android, due to the freedom in the usage of users' privacy. With this post above on about the list of top 8 loan apps for iPhone users in Nigeria in 2023, I think you now know which ones to use to receive quick loans directly deposited into your bank account with affordable interest rates and flexible repayment options.