Loan
Okash Loan review: Download Okash Loan APP
Need some quick cash without any hassle? Well, let me introduce you to Okash, an online loan app operated by Blue Ridge Microfinance Bank Limited, a trusted name in the industry.
In these challenging economic times, many Nigerians rely on loans to make ends meet. That's where loan apps like Okash come to the rescue. They cater to the growing number of people in need of emergency cash without making cut-throat demands as most traditional lending institutions do. Here is recent update on Okash loan App review, interest rate and everything you need to know about the loan App.
Okash is Opay's automated lending service that is aimed at increasing access to credit for individuals who are typically overlooked by traditional financial institutions. It's a total game-changer when it comes to getting low-interest-rate loans without the need for collateral.
Thanks to the wonders of technology, getting an instant loan has never been this simple, convenient, and easy to obtain. You can get a loan decision within 15 seconds, and if approved, the money is deposited in your account within 5 minutes.
With over a million downloads on the Google Play Store and a 4.3-star rating, it's clear that Okash is a popular choice among Nigerians. The app is continuously updated to offer a better user experience, with optimized page design and smooth application operation.
So, if you're in a financial pinch and need a quick and hassle-free loan, give Okash a try. It's there for you 24/7, providing the financial support you need, whenever you need it.
How To Create An Account On Okash Loan App
After downloading the Okash loan app from Play Store, the next action to be taken is to create an account with Okash.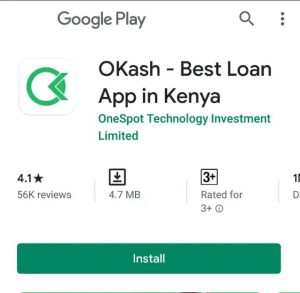 To create an account with Okash, follow these simple guidelines:
Launch the App: Locate the Okash loan app on your mobile device and tap to open it.
Sign Up: Upon opening the app, you will be prompted to sign up. You can sign up using your mobile phone number, email address, or your existing Opay account details.
Verification: After signing up, you need to verify your account. Before the verification process, you will be asked to accept Okash's terms and conditions. Once accepted, a verification code will be sent to you via SMS or email.
Set Up Security Systems: It is important to secure your Okash loan app account to prevent unauthorized access. Choose a strong password or PIN code that only you know. This four-digit PIN code will serve as your security code, and you can update it for added security.
Grant Default Access: During the account creation process, Okash may request access to your contacts and location. Granting permission enables Okash to provide better services and accurately assess your creditworthiness.
By following these steps, you can create an Okash account in approximately 15 minutes. Remember to carefully review the terms and conditions before proceeding and select a robust password or PIN code to safeguard your account.
How do I qualify for an Okash loan?
To qualify for a loan from Okash, you need to meet certain criteria and provide specific details. Here are the must-haves to get a loan from Okash in Nigeria:
Age: You must be between 20 and 55 years old.
Identification: You will be required to provide a valid ID card for verification purposes.
Bank Account: You need a valid Nigerian bank account to receive the loan amount.
Bank Verification Number (BVN): You must have a BVN to confirm your banking details and ensure you're not in debt with other loan services.
Phone Number: You should provide a valid mobile phone number linked to your BVN to get your verification code.
Once you meet these requirements and have the necessary information, you can proceed to download the Okash loan app and complete the loan application process.
Okash Loan Interest Rate
According to 2023 update Okash App offers loans with interest rates ranging from 5% to 30%, which will depends on the loan amount and loan tenure requested. Compared to the 60% interest rate of other loan applications, Okash interest rate is a little bit more favorable than other loan app in Nigeria
How much can I borrow from Okash for the first time?
Okash offers loans ranging from a minimum amount of ₦3,000 to a maximum of ₦500,000. However, as a first-time borrower, the initial loan amount you can borrow from Okash is influenced by factors such as your income. This helps the lenders estimate what you can afford to pay into a mortgage. If you repay your initial loans on time without any issues, it increases your chances of being eligible for higher loan amounts in the future.
How to Register Okash Loan
To apply for a loan on the Okash loan app, follow these steps:
Install the Okash app from Play Store.
Register an account by providing your Name, BVN, Email, and Phone number.
Once your account is created, go to the app dashboard and click on the "Apply for a loan" option.
Select the desired loan amount from the options available. The minimum amount you can borrow is N3,000, and the maximum is N500,000.
Fill in the required details in the provided fields, providing accurate information, and then submit your loan application.
After submitting your application, you may receive a call from Okash for verification purposes. They may ask you to confirm certain details.
Wait for the application result, which will be displayed on the app. If your loan is approved, you will also receive a confirmation through SMS.
If your loan is approved, electronically sign the loan agreement as instructed.
After e-signing the loan agreement, the approved loan amount will be disbursed into your bank account.
Finally, you will receive an SMS notification confirming the disbursement of the loan amount.
Please note that Okash utilizes artificial intelligence (AI) to assess your creditworthiness based on your provided data, including your BVN and phone number. Ensure that the phone number you provide is linked to your BVN and capable of receiving SMS notifications.
How To Repay  Okash Loan?
Okash offers flexible repayment options, so you can choose the plan that works best for you. Whether you prefer monthly payments, every 3 months, quarterly (every four months), or even at the end of 12 months, it's completely up to you.
To pay back the loan you borrowed from Okash, you can follow these steps:
Open up the Okash app and log in to your account.
Go to the repayment dashboard.
Enter your bank details and choose the amount you want to repay.
Select either your debit card or credit card to make the payment.
If you prefer, you can also repay the loan physically at the bank or via transfer instead of using the app. If you choose to go with the bank option, follow  these steps:
Make the payment to Zenith Bank plc. using account number 1130085518.
Include your BVN or registered phone number and your full legal name in the remarks section when making the transfer.
After the transfer is successful, send the transfer details to repayment.proof.ng@o-kash.com to verify the information and update your loan status.
Note, if you have enough funds in your bank account, the platform will automatically debit the repayment amount when it's due, so you won't have to follow the steps mentioned above.
Conclusion
To sum it up this Okash Loan review, which shows is a reliable online loan app that's here to help Nigerians in need of quick cash. It's hassle-free, with low-interest rates and no need for collateral. The app is easy to use, offering fast loan decisions and flexible repayment options. With Okash, you can get the financial support you need, whenever you need it.