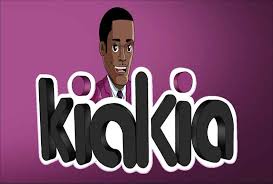 The fact that Nigeria has access to the platform for investing must be emphasized. These services are accessible to both businesses/companies and Individuals, Users can apply for loans in addition to having the option to lend money. There are several credit plans offered in Kiakia Loan platform.
When looking for a loan app, you would probably want a safe/legitimate and stress-free app with low interest rates. If so, Below is the Review of one of the safe and best loan app to get loans from. Look forward to reading about what it's all about, Their loan requirements, interest rates and duration, USSD code, How to download the app, Customer care services, and lastly its legitimacy.
WHAT IS KIAKIA LOAN ALL ABOUT?
KiaKia is the most well-known and best peer-to-peer lending platform available to Nigerian citizens Through the KiaKia platform, users can lend or borrow money. The application for a Kiakia loan can be completed online, which makes the procedure much simpler and faster. Even if you don't put up any collateral, you can still get a loan in a short period of time.
KIAKIA LOAN REQUIREMENTS
To be eligible for a KiaKia loan, you must submit the required forms and meet the conditions for eligibility, which are listed below;
1) Candidates must live in Nigeria.
2) The applicant must be at least 21 years old.
3) Candidates must be account holders in one of Nigeria's major commercial banks and possess a Bank Verification Number (BVN).
4) Candidates must provide documentation of their income. (Running your own business or working in the public or private sectors)
5) A legitimate form of identity is required from candidates (a government-issued ID for independent contractors and a job ID for employment applicants).
6) For the previous six months, applicants must produce proof of income in the form of an electronic bank statement in PDF format or a screenshot of their monthly income notification from an SMS or email.
7) Optionally, users can give Kiakia permission to view their bank transactions by connecting their bank account to the Mr. Kay software for the express purpose of getting bank transaction information.
INTEREST RATES AND LOAN DURATION
Interest rates vary based on the amount and duration of loan, Borrowing limit increases with timely payments and getting access to Maximum amount is based on your creditworthiness. KiaKia loans start from N10,000 up to N200,000.
KiaKia loan interest rates range from 5.6% to 24%, and the platform also charges a one time processing fee of 5%. Their loan term ranges from 7 days to 30 days, while their loan terms are in two: long-term loans and short-term loans.
KIAKIA USSD CODE
According to the information that is currently available, Kiakia Loan does not offer a USSD option. If you're interested in applying for a loan, visit their website and select the Get Loan option. Please be aware that eligibility requirements must be meet.
KIAKIA LOAN APP DOWNLOAD
Like other apps, kiakia loan app is available in all applications store, you can download the app depending on the one on your phone. Below are steps to download;
1) head over to an app store, depending on the one on your phone.
2) click the search button and input the app name (kiakia P2P) then click search
3)when the app pops up click on download, after download completes click on install
NOTE: Unauthorized download links or unofficial app stores could be a security risk to your device and personal information. Download the kiakia app only from reliable websites, such as the operating system's official app store.
CUSTOMER SERVICE
For further assistance or inquiries, please send a mail to:
helpdesk@kiakia.co
or contact any of the platform's customer support helplines:
08092245588, 09055111140, 08093078377, 09034425508 and 08078443174.
IS KIAKIA LOAN APP LEGIT?
Kiakia P2P Loan App is a legit and real app that lends money to Nigerians. The lending app Kiakia P2P is legitimate. To avoid any problems with applying for or repaying a loan, you must stick to the instructions provided by the app. When using Kiakia P2P, be on alert for any unauthorized debits and report them right away to your bank so that they can be investigated. In conclusion, the P2P loan app Kiakia is legitimate and secure.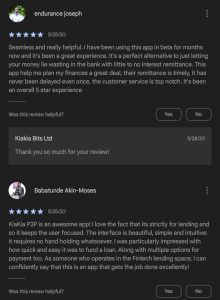 CONCLUSION
In conclusion, obtaining a loan from Kiakia is a simple process that can be carried out through either of their user-friendly mobile apps or websites. The first step is to download the KiaKia loan app or go to their website to register an account with proper details that match the information from your bank account.
You then move on to loan requests and verification. Once your eligibility has been confirmed and a loan request has been submitted, Kiakia takes 10 minutes to authorize the loan request and credit your account. By doing these actions, you can move one step closer to achieving your financial goals. Kiakia Loan seeks to offer people affordable financial alternatives.