If you're seeking a versatile bank app that covers various aspects of your transactions, including borrowing, then FairMoney is the go-to solution that has gained significant popularity and is here to stay.
In this blog, we will provide you with comprehensive information about FairMoney loan, ensuring you have all the essential details at your fingertips. Stay tuned to discover the in and outs of this remarkable loan app.
FairMoney Review
FairMoney's popularity among Nigerians stems from its commitment to hassle-free loan services. With approval times as fast as a few minutes, users can access personal loans of up to ₦3,000,000 without the need for collateral. The app offers convenient repayment terms and competitive interest rates, making it an attractive option for individuals seeking financial assistance.
FairMoney stands out with its user-friendly interface, making it simple for borrowers to navigate through the loan application process. Although a few users have encountered login challenges, the app generally offers a beneficial solution for individuals seeking quick access to funds. Furthermore, FairMoney goes beyond just providing loans, as it facilitates secure and convenient money transfers and utility bill payments for its users.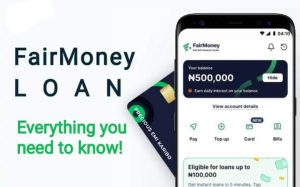 Download FairMoney Loan App
The FairMoney instant Loan App is a powerful tool designed to assist Nigerians in achieving their short and medium-term financial goals. As a licensed lender, FairMoney offers various loan options, including one-time, installment, and payday loans. The app ensures the security of users' data through encryption and provides an efficient way to borrow money without the hassle of complex paperwork or collateral
To experience the benefits of FairMoney's loan services and financial tools, users can download the FairMoney instant Loan App. This free app is available for Android devices and can be downloaded from the Google Play Store. Unfortunately, at the moment, the app is not available for iOS users.
FairMoney Loan Requirements
.
Whether it's for personal, business, or payday needs, users can benefit from FairMoney's services.
To qualify, applicants must be at least 18 years old,
possess a Bank Verification Number (BVN), and
Customer Care Number
For any inquiries or support, FairMoney provides multiple channels for users to get in touch. Customers can contact FairMoney's customer service team by calling 01 7001276 or 01 8885577. Alternatively, they can send an email to help@fairmoney.ng. For physical correspondence, FairMoney's office address is 28 Pade Odanye Close, off Adeniyi Jones, Ikeja, Lagos, Nigeria.
WhatsApp Number
FairMoney understands the importance of convenience and accessibility. While specific information about a dedicated FairMoney WhatsApp number was not provided in the given text, users can inquire about such contact details through the provided customer care channels.
Email Address
To communicate with FairMoney via email, customers can send their queries or requests to help@fairmoney.io. FairMoney's dedicated customer service team will respond promptly to address any concerns or provide assistance.
FairMoney CEO
The driving force behind FairMoney's success is its CEO, Laurin Hainy. Together with co-founders Matthieu Gendreau (CTO) and Nicolas Berthozat (Product co-founder).
Conclusion
FairMoney Microfinance Bank is a leading fintech app in Nigeria, dedicated to providing accessible financial tools to millions of users. With over 5 million customers benefiting from its banking, savings, and investment services, FairMoney is revolutionizing the way Nigerians manage their finances. As a fully digital platform licensed by the Central Bank of Nigeria, With the recent FairMoney review which shows that they ensures the security and insurance of all deposits through the Nigeria Deposit Insurance Corporation (NDIC).