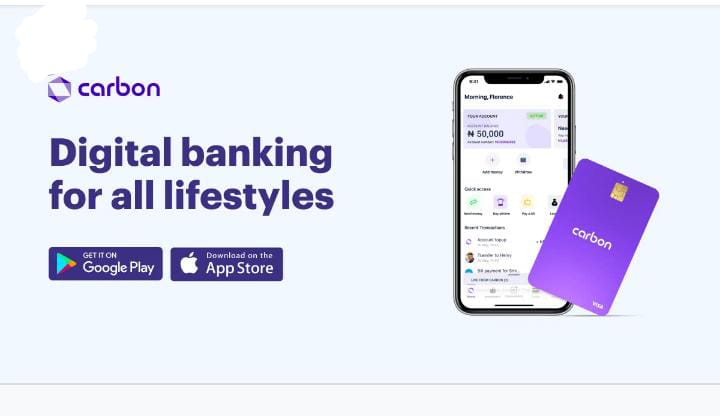 I'm so excited to introduce Carbon loan app, one of the top loan platforms in Nigeria, offering quick, accessible loans with a clarified and easy loan application process.
Carbon was formerly known as Paylater but has evolved to become a prominent fintech company in Nigeria that provides various financial services, including loans, money transfers, bill payments, and high-interest savings.
This article aims to provide a detailed review of the Carbon loan app, covering its features, interest rates, USSD code, download process, loan limits, approval status by the Central Bank of Nigeria (CBN), and a step-by-step guide on how to obtain a Carbon loan.
Carbon Loan App Review
Carbon is a long-standing financial institution. It was first established in 2012 as Onefi (one finance) which was later rebranded as Paylater in 2016. The app has grown in popularity and is currently recognized as Carbon.  Its longevity attests to its legitimacy and competence.
Carbon also offers short-term loans of up to N1,000,000 within 24 hours. Today, Carbon is recognized as one of the leading digital banks in Nigeria, offering reliable and convenient financial solutions. Carbon is expanding its global reach while adhering to regulatory guidelines. This ensures that it will remain functional for a very long time.
Interest Rate
The interest rates offered by Carbon range from 2% to 30%. The specific rate depends on the loan repayment period and the desired borrowing amount. Generally, shorter repayment periods tend to attract lower interest rates compared to longer repayment periods.
Carbon Loan USSD Code
To access Carbon loan services, users can utilize the USSD code *130*3#. This code works on both MTN and 9mobile platforms. By dialing *130*3#, individuals can conveniently access the various loan features offered by Carbon.
Carbon loan application download
You can download the Carbon Loan app from the Google Play Store for Android devices or the App Store for iOS devices. The app provides a user-friendly interface, allowing customers to easily navigate and utilize the available features.
Loan Limits on Carbon
Carbon offers loans of up to ₦1 million, depending on the borrower's profile and previous loan repayment history. Initial loan amounts may be relatively lower for first-time users, but as borrowers consistently repay their loans, they gain access to larger loan amounts.
Approval by CBN
Carbon loans are completely legitimate and approved by the Central Bank of Nigeria (CBN). The company has been operating since 2012 and has been licensed by the Central Bank of Nigeria. It has offices in multiple countries, including Mauritius, Nigeria, the United Kingdom, the United States, Canada, South Africa, and Kenya.
How to Get a Carbon Loan
To access Carbon loans, follow the following steps
Create an account by providing your details.
Select the "Request a loan" option within the app.
Enter the desired loan amount and specify the reasons for seeking the loan.
Then wait for the loan application to be processed.
If approved, provide your card details for the funds to be credited to your account.
Note: Once the loan is fully repaid, you can immediately apply for another loan with a higher amount and lower interest rate.
Conclusion
Carbon loan app offers a reliable and convenient solution for individuals seeking financial assistance in Nigeria. With its long-standing presence and approval by the Central Bank of Nigeria, Carbon provides a legitimate and trustworthy platform for accessing loans, money transfers, bill payments, and investment opportunities. By following the outlined steps, users can easily download the Carbon loan app, apply for loans, and manage their financial needs efficiently.