Loan
CreditWave Loan App Download: Fully Government Approved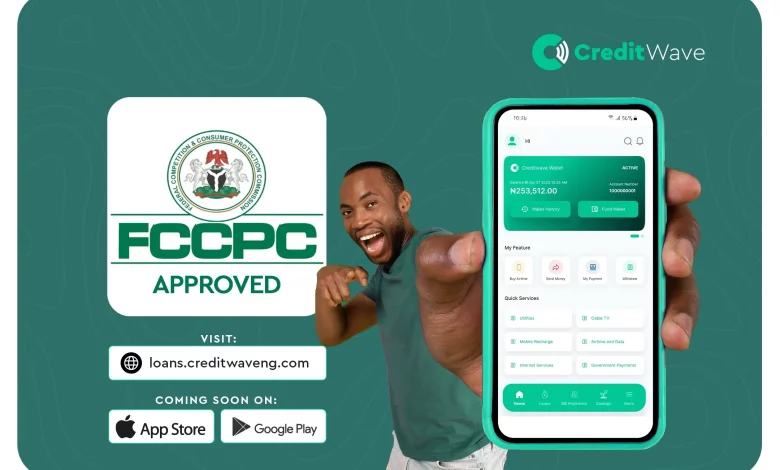 CreditWave Finance Limited is proud to present the CreditWave Loan App, a digital financial services solution designed to provide convenient and hassle-free access to loans in Nigeria, Africa, and other emerging markets. As a licensed money lender approved by the Lagos State Government and the Federal Competition and Consumer Protection Commission, CreditWave Finance Limited is committed to offering reliable and secure financial solutions to individuals and MSMEs.
CreditWave Customer Care
CreditWave prioritizes customer satisfaction, and therefore has assembled a dedicated customer care team that is always ready to assist you. So, If you have any questions, concerns, or inquiries, you can reach their Customer Care team with their phone number 09120026498 or via email at Help@creditwaveng.com.
Requirements for a CreditWave Loan
To successfully apply for a CreditWave loan, you will possess the following requirements:
Be at least 18 years old.
Have a valid Bank Verification Number (BVN).
Possess a personal email account
Maintain a personal bank account.
Hold a debit card with a minimum validity period of 3 months.
Submit proof of home address, such as a utility bill.
Have a valid government identification document.
Present a valid work identification card  (for salary earners).
Interest Rates
When considering a CreditWave loan, it is essential to understand the associated interest rates. CreditWave interest rate for loan is 4 6% monthly charge, 27.8% repayment fee for 6 months and the Annual Percentage Rate (APR) is 55.6%.
Difference between Loans and Credit
Loans and credit are distinct financial tools with unique characteristics. Loans involve borrowing a lump sum, which must be repaid with interest over a predetermined period. They provide immediate access to funds for specific purposes, such as property purchases or business initiatives.
On the other hand, credit provides a pre-approved sum that can be borrowed repeatedly within a predefined limit, typically through credit cards or lines of credit. This means that you can choose to withdraw all or part of the funds. Or even decide not to use any at all. In that case, only the amount borrowed is subject to interest. Meaning you will not be liable to pay interest for funds not used.
Understanding the difference between loans and credit empowers you to make informed financial decisions tailored to your specific needs.
Download CreditWave Loan app
The CreditWave Loan App is one gateway to a quick and convenient financial service. It provides a strong strategic partnerships, diverse product portfolio, and experienced staff and management team for its efficient operations. CreditWave Finance Limited aims to be the number one credit facilitation company for individuals and MSMEs. Their mission is to provide quick and easy access to financial services for all, while upholding the values of customer-first approach, integrity, innovation, and team spirit.