In the world of instant loan apps and a low tolerance for herculean procedures, iMoney Loan App has gained attention in Nigeria for its quick loan disbursement process.
This article gives a detailed review of iMoney loan app in Nigeria, focusing on its legitimacy, safety, customer care, and loan offerings. Additionally, we will explore the features and application process of Xcredit loans, another popular lending platform. Read on to find out everything you need to know about these financial services.
iMoney Loan Nigeria Review
The iMoney loan app is a legit and reliable lending platform available for Nigerians seeking instant loans. With a straightforward application process, users can register and apply for loans ranging from ₦3,000 and above.
The app ensures the safety of personal information, and as long as applicants meet the requirements, loans are disbursed within minutes. While some users have raised concerns about high-interest rates and short repayment periods, iMoney remains a trustworthy loan app in Nigeria.
It offers a quick and convenient way to access cash loans. However, the interest rates offered by the app can be relatively high, ranging from 30% to 40% and, the repayment period is relatively short. iMoney may offer a loan of 8000 naira, expecting repayment of 12,000 naira within 7 days, which can be challenging for some borrowers.
This aspect prevents iMoney Loan App from being included in the list of the best online loan apps in Nigeria. Despite these challenges, the iMoney Loan app can be considered a viable option for individuals seeking immediate financial assistance.
iMoney Plus Loan App
Apart from iMoney Loan App, there is also iMoney Plus Loan App available to users. With iMoney Plus, individuals can access additional loan options and enjoy the benefits of a wider range of loan offers.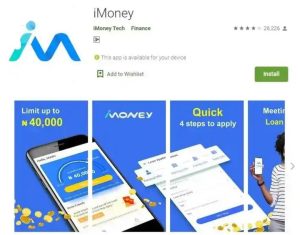 Customer Care Number
For any inquiries or complaints regarding iMoney Plus Loan, customers can reach out to the dedicated customer support team. If you encounter any issues or need assistance with the app, you can contact iMoney through the following channels:
Website: imoney.facebook page: facebook.com/pg/iMoneytechEmail Address: help@imoney.ng
Or visit their head office at Sapetro Towers 1, Adeola Odeku Street, VICTORIA Island in Lagos, Nigeria.
How Do I Apply for an Xcredit Loan?
Credit is another popular lending platform that offers loans to individuals in Nigeria. To apply for an Xcredit loan, follow the steps outlined below:
Download the Xcredit App: If you are an Android user, visit Google Play Store and search for "Xcredit" in the search bar. Click on the app and initiate the download and installation process. For iPhone users, the app can be found on the Apple Store.
Sign Up and Provide Required Information: After installing the Xcredit app, open it on your smartphone. Sign up by providing your phone number (MTN, Airtel, Glo, or 9mobile), BVN, and answer a few questions. Xcredit will request access to the data on your phone to evaluate your eligibility for a loan.
Grant access to your phone's data to determine your eligibility for a loan. If your application is successful, you will receive instant loan disbursement.
Xcredit utilizes data from your phone, including handset details and financial transaction SMS messages, to make lending decisions.
They combine this information with your repayment history to generate an individualized credit score, which determines the loan offers you receive.
Therefore, to increase your chances of loan approval, make sure to save data on your phone, maintain good credit with other lenders, and provide accurate account details during the application process. If your initial application is not accepted, continue saving data on your phone and reapply after the specified period.
Conclusion
iMoney Loan App in Nigeria is a legitimate and safe platform for acquiring instant loans. While some users have raised concerns about high-interest rates and short repayment periods, the app remains a reliable option for urgent financial needs. Additionally, Xcredit is another lending platform that offers loans to Nigerians, with the application process relying on phone data and repayment history.
By following the provided steps, users can conveniently apply for an Xcredit loan. Remember, it's essential to carefully review the terms and conditions of any loan app and assess your ability to repay before borrowing.