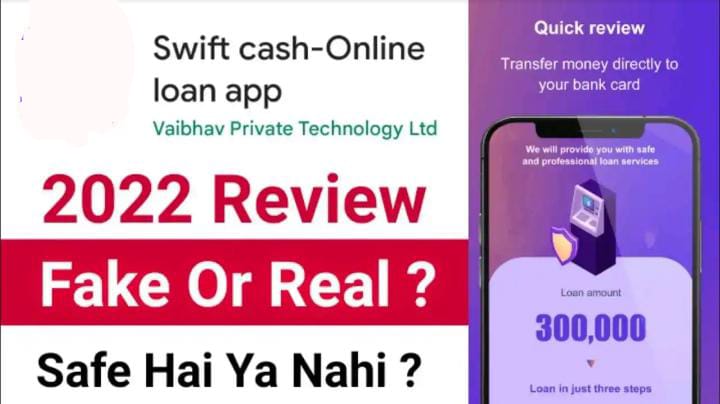 Swiftcash App is a promising loan platform in Nigeria that aims to provide quick and convenient loans to individuals and business owners who need financial assistance. Users are liable to get personal loans of varying amounts to cater to a wide range of needs which may include but is not limited to business loans, vacation loans, and study loans.
Just like its name, Swiftcash aims to offer loans swiftly. Although, they seem to be falling short of this agenda as several applicants have laid complaints of a delay in their loan disbursement and its high-interest rate. This SwiftKash ensures that it is undergoing a system upgrade and will come back better. Aside from that, SwiftKash tends to be doing well as it has a 3.9-star rating with over 500k downloads.
SwiftKash's best feature is that it grants individuals the ease and convenience to access loans by making sure that their services are available 24/7.  This additional feature gives it an advantage over its competitors. Borrowers can apply for loans at their convenience without the need for paperwork, collateral, or office visits. This unique feature makes SwiftKash popular among the people.
Is the Swiftcash loan app legit?
Swiftkash is a reliable loan company with many positive reviews from its users across the globe. It is a registered company with the Corporate Affairs Commission (CAC) in Nigeria. However, this is not a strong proof of its legitimacy or the quality of its services. It's wise to review the terms and conditions, interest rates, and any potential fees associated with the loans offered by SwiftKash to ensure you make an informed decision that aligns with your financial needs and capabilities.
How to Download SwiftKash
To Download SwiftKash, kindly follow the following steps?
Go to Google play store on your android device or appstore on your IOS phone.
Then search for SwiftKash
Next click the download button.
OR
How Do I borrow money from SwiftKash
Borrowing money from loan cash is a seamless process. Follow the steps below to apply for a Swiftcash loan
After Downloading the Swiftkash App from playstore or app store.
Create an account by signing up with your phone number to receive OTP.
Choose the product for which you want to apply.
Fill out the application with correct details of your BVN, permanent address, phone number connected to your bank account, among others.
Submit it and wait for your loan application to be approve.
After your loan has been approved, your funds will be disbursed into your bank account within minutes.
SwiftKash Customer Care
You can reach SwiftKash customer care service to make enquiinquiriesomplaints using the following
Contact information:
Address: 17 Castlereagh St Sydney NSW 2000. Phone: 1300 179 438
Website: https://swiftkash.ng/
Email: service@swiftkash.ng
With fixed interest rates lower than most credit cards, more flexibility than a bank, and no hidden fees, SwiftKash is built to save you as much as possible. It's also important to note that while this review highlights the positive aspects of SwiftKash, it is always recommended that you thoroughly research and consider all other options before applying for a loan on any platform.