Have you ever wondered what the rich man's road map to success is or how difficult it seems to navigate the rocky path to financial freedom? Well, think no further as I present to you the lazy man's way to financial freedom using Bamboo investment.
What is Bamboo Investment?
Bamboo is an online platform where you can invest in stocks and trade them without breaking a sweat. It's all about making investing simple and affordable for people, especially in Africa where traditional investment options can be pretty limited.
With the Bamboo app, you can dive into the U.S. stock market and become a part-owner of big-shot companies like Apple, Microsoft, and Tesla. How cool is that? And don't worry if you're new to investing. The Bamboo app is designed to be super user-friendly, so anyone can jump right in, regardless of age or background. They've got features to guide you along the way and make sure you don't get lost.
The best part is, Bamboo lets Africans access global investment opportunities in real time. You see, local markets in Africa can be pretty unpredictable, and currency values can take a hit. But with Bamboo, you can tap into international markets and make smart investments.
With over 500,000 people already signed up, Bamboo is rocking the investment app scene in Nigeria. They're all about giving Africans the chance to invest in global markets and make some serious moolah. It's all about empowering people and making the investment game accessible to everyone, no matter where they are or how much they know.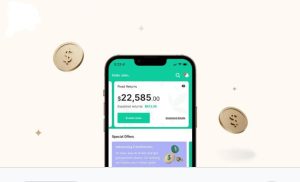 How to Make Money on Bamboo App
There are four primary ways to earn money from Bamboo. They include:
Capital Appreciation: You make money on Bamboo when you buy shares at a certain price and sell them when the prices shoot up. It's like buying low and selling high, and that's how you make a profit. Keep an eye on those stock market ups and downs and get rich with rising prices.
Dividends: Some companies distribute dividends to their shareholders from their profits or asset sales. By owning shares in these companies, you can receive a portion of their earnings as dividends. It's like getting a bonus from the company's profits when they sell something valuable. Not all companies do this, but when they do, it's like free money in your pocket.
Fixed Returns (Only in Nigeria): Bamboo offers a fixed-income dollar-denominated investment called Bamboo Fixed Returns. It's a fancy way of saying you can invest your dollars for a specific time, from 90 days to a year, and get up to 8% returns. Easy peasy! Just lock your money and watch it grow without lifting a finger. However, you will need to have money in your Bamboo wallet with which you can start investing in Fixed Returns or stocks. The minimum amount you can deposit in your wallet is $1 for Nigeria and $10 for Ghana.
Storing Idle Cash: You can earn an 8% annual interest rate by storing idle cash with Bamboo. This allows your money to grow over time without the need for active investment decisions. Don't let your money sit there doing nothing! Stick it with Bamboo, then sit and watch your cash grow over time. Let your money do the work for you!
Note: Bamboo is a legit investment app for trading stocks and ETFs. But hey, they don't tell you what to do with your money. Therefore, Before investing, investors should carefully evaluate their investment objectives and risks. Keep in mind, all investments have risk and that the past performance of a security or other financial products does not guarantee future outcomes or results. Which means you might not get back everything you put in at some point.
Is Bamboo Investment Legit?
Yes! Bamboo is a legitimate platform that operates following regulatory standards. All Bamboo accounts are held at a reputable U.S. brokerage firm that is a member of the Securities Investor Protection Corporation (SIPC). Bamboo is duly registered with the Securities and Exchange Commission (SEC) in both the United States and Nigeria. It is worth noting that each Bamboo account is insured for up to $500,000, providing an additional layer of protection.
How Safe Is the Bamboo?
In terms of safety, the Bamboo Investment app employs advanced security measures comparable to those used by banks. These measures include data encryption and two-factor authentication (2FA) on all Bamboo Investment accounts. These security features contribute to the overall safety of the app, ensuring that users' information and investments are well-protected.
HOW DOES BAMBOO INVESTMENT WORK?
Bamboo Investment is an awesome online trading and investment platform that lets you invest in over 3000 stocks listed in both the United States and Nigeria stock markets. It's like a golden ticket for Nigerians to dive into the US stock market, which has a massive market capitalization of over 21 trillion USD!
You know, there are so many US companies that are killing it in the stock market, and Nigerian investors have been itching to get a piece of the action. Well, Bamboo made that dream come true! Now, you can freely buy and sell US stocks, knowing that your money is safe and sound. It's like having a magic wand to trade any stock you desire! What's more, you can do all this from the comfort of your home. Once you sign up on the Bamboo platform, you can start trading and making money right away. It's as easy as pie!
So, here's how it works in a nutshell:
Download the app: Find and download the Bamboo app from the Google Play Store.
Fill in the sign-up form: Open the app and click on "Sign up" to create your account. Enter your details as prompted.
Submit your NIN: After registering, you'll need to submit your National Identification Number (NIN).
Submit your contacts: Provide your contact information for proper registration.
Explore stocks: Discover and explore thousands of American and Nigerian stocks available on the platform.
Invest: Fund your Naira and Dollar accounts on the app with as little as 10$ to start buying and selling shares instantly with just a few taps.
Track your investments: Use the Bamboo app to monitor and track your investment portfolio. You can make adjustments as needed.
Overall, Bamboo seeks to empower individuals in Africa to participate in global investment markets and build long-lasting wealth through its comprehensive and user-friendly investment platform.
App Review
Bamboo is highly regarded with a commendable 4-star rating out of 5 for its overall performance. This platform offers individuals the opportunity to engage in the purchase, holding, and sale of U.S. and Nigerian stocks, Exchange Traded Funds (ETFs), and Fixed Returns. Notably, Bamboo's application includes a notable feature that enables users to gift stocks to others. Additionally, investors can diversify their holdings through Bamboo's Vault feature, which allows for the storage of idle cash and offers attractive annual returns of up to 8%.
Who owns Bamboo app?
Richmond Bassey and Yanmo Omorogbe, the co-founders of Bamboo, launched the investment app intending to make it easier for middle-class investors in Nigeria, who face certain limitations and requirements, to invest in US brokerage firms. The goal of Bamboo is to simplify the process and knowledge needed for these investors to get started.
Conclusion
Bamboo Investment has transformed the investment landscape in Africa, particularly in Nigeria. With its user-friendly platform, users can easily access global markets and invest in stocks of renowned companies. The app also provides multiple avenues for making money, including capital appreciation, dividends, fixed returns, and storing idle cash. With regulatory compliance and advanced security measures, Bamboo presents both a safe and easy way to save and invest your money.