It is no news that POS agents are now the new drug lords. As the business of dispensing money is now a very lucrative business for a fast-declining economy. Moniepoint is one of the fintech companies have responded by developing innovative solutions that offer convenient, speedy, and secure access to financial transactions through their POS machines.
However, you can never be too careful in picking the right establishment to work with. Therefore, this article will narrow your choice by providing you with a detailed overview of one of the top leading digital financial companies known as Moniepoint. Including how it works, how to become a Moniepoint POS agent, obtain a POS machine, the associated costs, transaction charges, and funding options for a Moniepoint account. Get ready to make an informed decision as we dive into the details of Moniepoint's offerings.
What is Moniepoint and How Does It Work?
Moniepoint is a leading financial technology company in Nigeria, focused on providing digital financial solutions for businesses. Its primary objective is to facilitate transactions between customers and merchants through an extensive agent network. By offering services such as cash transfers, bill payments, airtime recharge, and mobile banking, Moniepoint promotes financial inclusion by providing easy and affordable access to financial services for all, including those in rural areas where access to banks remains a herculean task. The company ensures secure and reliable services through cutting-edge technology.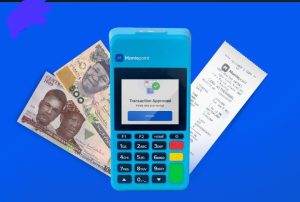 How to Become a Moniepoint POS Agent
If you're interested in becoming a Moniepoint POS agent, here's what you need to do:
Go to their official website at Here and find the registration form for Moniepoint agents.
Fill out the form with your details and submit it.
After that, confirm your email address and phone number and within 48 hours of registration, an agent from Moniepoint will reach out to you.
The agent will guide you through the next steps and confirm your status as an agent.
Once that's done, you can log in to the Moniepoint POS dashboard and start managing your account like a pro.
How to Get a Moniepoint POS Machine
Acquiring a Moniepoint POS machine is straightforward. Contact the closest Moniepoint office to your location and follow these steps:
Pay a visit to the office and express your interest in becoming a Moniepoint agent. They'll provide you with a registration form specifically for Moniepoint agents.
Fill it out with accurate information. Don't forget to bring a valid ID card along with the completed form.
They might offer you the opportunity to attend a training session, where you'll learn how to use the Moniepoint platform for processing payments.
Once you complete the training (if you attended), and pass the assessments, they'll give you a Moniepoint agent code and an agent kit.
You can now start offering payment services to customers and earn commissions on every transaction you process.
How Much Does the Moniepoint POS Machine Cost?
The Moniepoint POS machine comes with a price tag of N21,500. Compared to other service providers, that's quite affordable. Just make sure you apply for the Moniepoint POS machine at an approved center to ensure it's legitimate. And guess what? You won't have to wait too long to get your hands on it.
Once you make a request, you can expect to receive the Moniepoint POS terminal within 48 hours.
Customer care number
Email: support@moniepoint.com
Phone: 01 888 9990 and also thier whatsAPP Number.
How Much Does Moniepoint Charge per Transaction?
When it comes to transaction charges, Moniepoint is known for its affordability. Unlike other POS services that vary their charges depending on the bank, Moniepoint keeps it simple.
For withdrawals less than N20,000, the charge is 0.5% of the transaction amount. While transactions above N20,000 incur a flat rate charge of N100 and transfers are charged at a flat rate of N20.
Moniepoint POS transaction charges are not dependent on the bank and remain consistent at N20 for all banks in Nigeria. Additionally, Moniepoint does not impose any additional bank fees, setting it apart from many other POS service providers.
Conclusion
Moniepoint has established itself as a leading fintech company in Nigeria, providing digital financial services to individuals and businesses.  Becoming a Moniepoint POS agent offers an opportunity to earn commissions and provide convenient payment services to customers. So embrace Moniepoint now to open your very own oil well and start affiliate earning commissions.