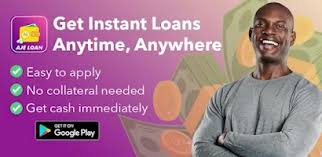 You must be obviously Unaware of this loan platform. One of the newest apps of lending platforms is Aje loan. You won't have to stress about delayed loan approval procedures or ridiculous interest rates when you use this loan App platform. 
Answers to some of the most common questions people have on this subject will be one of the most crucial topics we discuss, such as how to apply for the aje loan, the requirements for the application process, and eligibility. Continue to pay attention and stay tuned
WHAT IS AJE LOAN?
You might be asking what is aje loan??
The ajeloan app, although it is a newly developed loan platform, has gained popularity among Nigerians, and thus it offers an easy, 100% online loan with a low-interest rate and allows you to access the loan at any time and anywhere with no needs for collateral.
Ajeloan is owned by a private individual, a loan platform that assures to offer loan services to individuals, enterprises, and even undergraduates. This article will go over everything you need to apply for the ajeloan platform in great detail.
INTEREST RATES AND DURATION
Aje loans have an annual interest rate that can range from 0.7 to 5% depending on how much you're borrowing and how you plan to return it. The interest rate decreases with the amount of the loan you are applying for, and vice versa. While also the loan term ranges from 91-days to 180-days, that is 3 – 6 months
Loan Information:
Loan amount: from ₦5,000 – ₦100,000;
Easy and flexible repayment plan
Interest rate is 0.013% to 0.05%
One time processing fee of 10%
Loan term: 91 days – 180 days;
Annual interest rates from 14%-20%.
REQUIREMENTS TO BE ELIGIBLE FOR AJE LOAN
AGE: They apply for the loan, there are a certain age limits to be. Which is from 18 years at a minimum and 60 years at a maximum, which means anyone below 18 or above 16 can't access the loan
NATIONALITY: Another eligibility requirement is you must be a citizen of the country, and foreign individuals are not eligible to apply for this loan.
BVN: Your Bank Verification Number is Highly Required, To be able to check and process your creditworthiness.
ACCOUNT DETAILS: Lastly, you need to have an active bank account to receive loan and also for checking credit worthiness
AJE LOAN CUSTOMER SERVICE
For more information or questions, aje loan customer service is available 24/7 through the mediums below.
E-mail: ajeloanservice@gmail.com
WhatsApp: +234 903 916 2704
Address: 10 Adebola House, Off Salvation Road, Opebi, Ikeja, Lagos
Customer service hotline: 09039162704
HOW TO APPLY FOR AJE LOAN
To access Ajeloan, follow the few steps listed below.
Install and create an account.
On the home page, click "Apply."
Complete the application accurately, then submit it.
Select the loan amount.
Accept the rules and regulations.
Await approval.
IS AJE LOAN LEGIT OR NOT?
You can confirm that the ajeloan platform is trustworthy by looking at how many people have downloaded it from the Google Play Store. It has more than 100,000 downloads, thousands of reviews, and a rating of more than 3.0 stars. To avoid any difficulties with applying for or repaying a loan, you only need to follow the directions on the app.
AJELOAN APP DOWNLOAD
head over to your phone's app store, wether (playstore for Android or Apple Store for ios)
click the search button and input the app name (Ajeloan app) then click search
when the app pops up click on download, after download completes click on install
WHO OWNS AJELOAN PLATFORM
Brandon Rice Owns Ajeloan Platform, Brandon Rice – CEO, Co-Founder – AJE Lending | LinkedIn.
CONCLUSION
The loan platform is legitimate and safe for loan applications, to avoid unnecessary and unpleasant situations. Strictly follow the app's instructions. And repay loan on time to increase credit limit to also avoid harassment, by doing this You are safe with to use the application