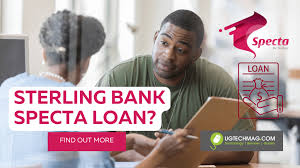 Do you have a sudden financial need that must be meet? It's not just you! Instant loans are really popular in Nigeria right now. More people have shifted to them to rapidly resolve their urgent financial problems. And what's this? This revolution in financing is being led by Specta Loan App. We will discuss how to borrow money from Specta, customer service, interest rates as well as loan conditions in this article.
Specta Loan is parted with Sterling Bank, one of the Top banks in Nigeria. Sterling Bank is the financial institution that supports and provides lending services for Specta Loan. To meet the needs of its customers, the platform provides borrowers with flexible loan amounts, low interest rates, and a range of repayment options. According to criteria like creditworthiness and income verification, the loan application is assessed.
LOAN INTEREST RATES AND DURATION
The loan package you choose will have a significant impact on the Specta Loan's interest rates. However, they range between 20% to 30% annually. Additionally, repayment is based on the package you selected, and the term of the refund is one to four years.
To make it possible for you to repay at your convenience, you can set up a monthly repayment schedule. Furthermore, all loans are subject to the following costs.
1% Management fee (maximum)
1% Commitment fee (Maximum)
Insurance fee (1% flat on salary advance and personal loans)
Household/ Asset acquisition (7% flat)
SPECTA LOAN REQUIREMENTS
You must submit the following data and information in order to apply for a loan from Specta:
Full Name: For identification purposes, we need to know your full legal name.
Name of Workplace: List the name of the business where you now work or are employed.
Date of Birth: In order to verify your age and loan eligibility, we need to know when you were born.
Phone: To facilitate communication on your loan application and repayment, please provide a working phone number.
Email Address: In order to get updates and announcements from Specta, you must enter an active email address.
Your bank account number is needed to deposit the loan amount when it has been approved (NUBAN).
BVN, or bank verification number: In order to verify your identity and protect the security of your loan application, you must provide your BVN.
TYPES OF LOAN'S THAT SPECTA OFFER
A variety of loan options are available from Specta, including personal loans, loans for buying a home or other assets, and salary advances. These loan choices meet a range of demands by giving people access to money for living expenses, buying assets, or getting salary advances.
SPECTA LOAN APP Download
Follow these procedures to submit an application for a Specta loan.
Email Specta to request to be profiled as an individual or a company.
Pick the loan option that you deem most appropriate.
By clicking the loan offer, you can start the application.
Complete the application and submit it.
If your application is approved, and you are eligible, they will credit your account right away.
CUSTOMER SERVICE
For more inquiries or finding anything difficult, kindly contact Specta customer care at:
Email: specta@sterlingbankng.com
Phone: 08170852820\08170852815
Facebook: @MySpecta
Twitter: @MySpecta
Instagram: @MySpecta
SPECTA LOAN REVIEW
One of the many websites in Nigeria that offer quick online loans is Specta Sterling Bank Loan. We consider the interest rate, which ranges from 20 to 30%, to be quite High. Only Android mobile devices can download the software from the Google Play Store, which has a star rating of merely 2.6/5.0. This may indicate that people are not totally satisfied with the app's features, and you would be better off applying for loans on the website.
CONCLUSION
In conclusion, we advise you start with a little amount of loan to review/test the application in other to see if it suits your test with its services, To avoid regrets and unpleasant situations while using the app.
While if in any way you find your self stuck with an issue in the application kindly contact their customer support immediately.