Rumor has it that 9credit loan is a fraud, in this article, we shall be looking into 9credit loan to confirm if it's a legit loan app or not. By taking a look into its interest rate, loan application, APK latest version, USSD code, its repayment account number and answering questions based on its mode of operation.
9Credit Loan App Review
9Credit just like every other mobile loan app promises to offer short-term personal loans to eligible Nigerians. The app was developed with the conviction to provide a quick and seamless loan application process for individuals in need of funds.
9credit boasts of a user-friendly interface for a smooth loan application process and also claims to offer low-interest rates for long repayment periods with no hidden charges.
However, the reverse seems to be the case. As our findings have shown that contrary to 9Credit's claims, the app has received predominantly negative reviews and complaints. Users have expressed grievances with its speed, lack of convenience, limited loan availability, high-interest rate, and several cases of fraudulent transactions and harassment from customer service personnel. All these contradict the app's advertised features.
Despite these shortcomings, 9Credit has a physical address with their head office located at Lawal Street, Oregon, Ikeja in Lagos State, Nigeria. It is also duly registered under Nigerian law; therefore, it operates under strict regulatory compliance. While this registration stands as a strong indicator of its legitimacy it does little to prove its transparency and efficiency.
INTEREST RATE
9credit Loan App offers a flexible interest rate of about 0.07% per day and 25.55% per year for loan amounts ranging from ₦3,000 to ₦100,000 with a loan tenure ranging from 62 to 120 days. However, additional charges might be incurred for loan processing resulting in an annual interest rate of about 72.4%.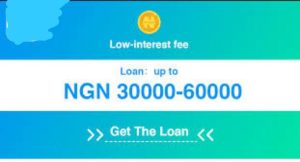 It is worth mentioning that these claims made by the 9 Credit Loan App might not be accurate. As some customers have repeatedly reported that they charge exorbitant interest rates and provide loans for only 7 days, which is below the minimum period of 60 days as established in the law.
Therefore, it is advisable to consider other available loan apps and thoroughly compare them before making any financial decisions.
9 CREDIT LOAN APPLICATION
Getting a loan from the 9Credit loan application is very easy and stress-free, all you need to do is to follow the stress-free steps listed below;
After downloading the next step, you need to take is to create your 9 Credit app account by filling out a simple form within 30 seconds and then submit.
Then the next thing you need to do is for you to apply for any amount of loan that meets your needs.
If approved, you will receive the loan in your bank account automatically.
9CREDIT APK LATEST VERSION
The latest version of 9 credit loan is v 1.9.0 and can be found on Google Playstore
USSD CODE
9 credit loan is yet to have a USSD code. Therefore, visit their website @ https://app-api.9moni.com for your loan applications and transactions.
IS 9CREDIT LOAN REGISTERED?
Yes, 9 credit loan is registered under Nigerian law and aims to meet the financial needs of Nigerians who are in need.
REPAYMENT ACCOUNT NUMBER
9Credit does not have any repayment account number, rather it has a process one has to take to repay his/her loan. These procedures are;
First, open the 9 Credit mobile app and go to loan history.
Next, tap on "Repay Loan" and you will get an estimate of how much money you owe.
Lastly, choose your preferred repayment method and pay back your loan.
Conclusion
9 Credit appears to be a loan application that offers quick approval and a straightforward application process. However, borrowers should exercise caution and conduct thorough research before taking out a loan. It is crucial to fully understand the terms and conditions, such as interest rates and repayment schedules, among others to prevent any unpleasant surprises down the line.