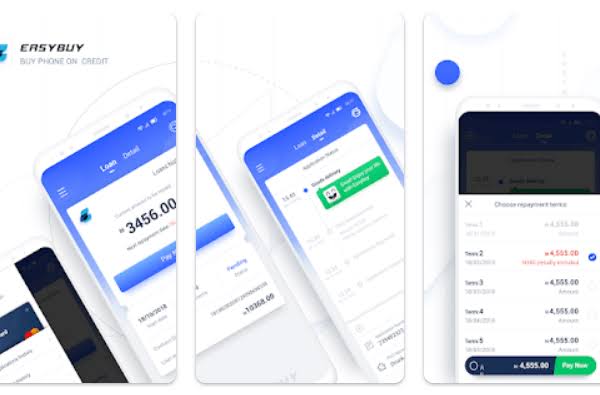 Easybuy, a Palmcredit subsidiary, is a mobile financial service that provides loan services. You can buy your phone with a loan from Easybuy Service and pay it back in installments.
Everyone is aware that smartphones have become prohibitively expensive. Although some low-spec phones are inexpensive, most with high-end features are pricey.
The Easybuy loan program allows you to buy a high-quality phone in Nigeria for only 30% of the price. You can repay the remaining 70% over three or six months.
In this article, your going to know what people think of Easybuy cash loan app, how to calculate there interest, how to apply, how to get in touch with there customer service (support), loan calculator, what you need to be eligible,and lastly how much you can borrow
Easybuy Loan App Detials
Want to know more about Easy Buy Loan App
Easy buy loan app is an online mobile app with currently (57,000) reviews, 3.5-star ratings, and over 10 million downloads, And so far so good the platform has been meeting their clients desired needs,
There are various advantages to using EasyBuy. In case you are unaware, EasyBuy is an internet platform that allows you to effortlessly purchase your preferred phone even if you do not have the full money for the phone.
In other words, you will be able to walk into a reputable phone dealer store, buy a phone, make a part payment for that phone, and still take the phone home.
INTEREST Rate
Do you want to know how much interest you have to pay for the loan?
The interest rate on an Easybuy loan varies depending on the repayment term you choose in your application. The monthly interest rate for the three-month (91-day) repayment term is 9%.
The monthly interest rate for the 6-month (180-day) repayment term is 6%.
EASY BUY LOAN APPLICATION
Want to know how to apply for an easy-buy loan??
1) Find an easy-buy agent
2)Provide necessary details
3)Select the mobile phone you wish to buy
4)Sign up for your easy-buy loan
5)Make an initial payment of 30%
6)Set a convenient repayment term
7)final verification
How to LOCATE AN EASY-BUY AGENT
The first step is to find an Easybuy agent. Easybuy has connections and affiliations with numerous Nigerian phone companies.
As a result, Easybuy agents can be found in a variety of mobile phone outlets. They all wear the official Easybuy uniform (blue branded T-shirts) and are immediately identifiable.
PROVIDE NECESSARY DETAILS
An Easy Buy representative will go over the requirements with you to ensure that you are eligible for the loan.
Some questions and details will be asked, and your response will be recorded.
SELECT THE MOBILE PHONE OF YOUR CHOICE TO BUY
The agent collaborates with the personnel in any mobile phone store affiliated with the Easybuy service. So, once you've decided on a phone and agreed on a price, you'll be led back to the Easybuy agent.
SIGN UP FOR YOUR EASY-BUY LOAN
The following step is to register on the Easybuy platform. The agent will be in charge of these stages, and the information you provided previously will be used for the loan application.
During the application procedure, you will also be photographed. You may also be asked to speak with another agent from Easybuy's headquarters (by phone).
MAKE AN INITIAL PAYMENT OF 30%
You will be required to pay at least 30% of the phone's purchase here. For example, if a cell phone costs $60,000, you must submit a $18,000 initial deposit.
SET A CONVENIENT LOAN REPAYMENT TERM
You have the following options when applying for an Easy Buy loan:
Payback within 3 months Payback within 6 months
The interest rate varies depending on the payback term. Before making a decision, make sure to confirm it.
FINAL VERIFICATION
This is the final step in obtaining an Easy Buy mobile phone loan in Nigeria.
You will be asked for the names and phone numbers of four people who are close to you. These people are:
It might be your family, friends, relatives, workplace, or coworkers. You must vouch for your responsibility.
If you fall behind on your repayments (fail to pay on or after the due date), you will be contacted.
CUSTOMER CARE NUMBER AND EMAIL ADDRESS
Do you want to get in contact with easy Buy Loan customer care
For inquiries and complaints, you can always contact Easybuy customer support through their email address and phone number.
• Phone number: 018888188 (9 am to 5:30 pm, Monday to Friday)
• Email Address: support@easybuy.loans
You can also reach out to them on their official Facebook Page: https://www.facebook.com/easybuy.loans.
EASY BUY LOAN CALCULATOR
Easybuy has become a popular choice for Nigerian individuals seeking ease in phone purchasing. With a calculator available for purchase, individuals can easily calculate monthly phone payments, ensuring they meet their requirements. This convenient tool is essential for those interested in Easybuy agency phone requirements and can be shared with friends.
EASY BUY LOAN REQUIREMENTS
To qualify for an EasyBuy mobile financing loan, you must meet the standards listed below.
You must be employed or have a steady monthly income.
2. You must present a valid form of identification.
3.  You can use your Driver's License, International Passport, Voter's Card, or NIMC National ID Card to prove your identity.
4. Your Bank Verification Number (BVN) and ATM card (still valid)will also be required.
5. Your 30% down payment for the mobile phone you want to buy
After completing these conditions, you should apply for the loan from Easybuy.
HOW MUCH CAN I BORROW FROM EASY BUY
As long as you match the standards, you can acquire a loan between #10,000 and #50,000. Easybuy will not provide you with a loan in more than of this amount.
CONCLUSION
In conclusion Easy buy loan app is a platform that helps you purchase a mobile phone with ease when your desperately in need of it, letting you leverage on there funds. Only when you meet there requirements and also making a down payment of 30% of the total amount of the phone,
Allowing you to Payback the the remaining 70% later at a fixed loan term, Easybuy also allows you payback installmentaly in any days between the given loan term.