Loan
ALAT LOAN APP | INTEREST RATE & REPAYMENT DURATION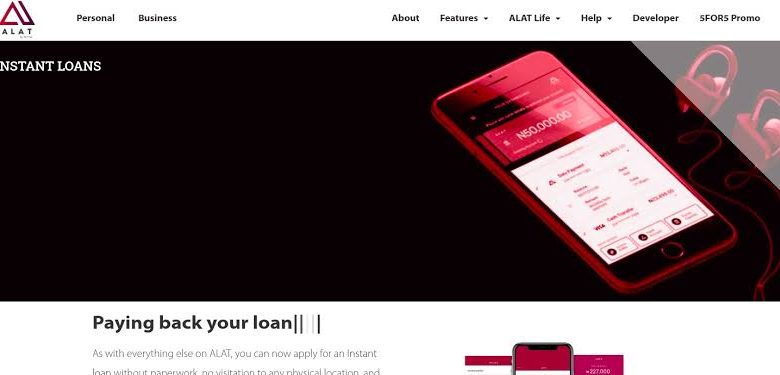 Alat is the first entirely digital bank in Nigeria and is made to encourage saving. You can order your bank card to be delivered to you anywhere in Nigeria, schedule transfers, save money, and pay bills automatically, easier for you to payment of school fees by purchasing of the form of devices like laptops, Ear pod, mobile phones, and computers in any convenient time of place and earn up to 10% interest on your savings. Learn more about the Alat loan App and how it works below.
What is ALAT app
ALAT app is a digital bank which provides loans, savings and cash transactions to users. It can also be run by an internet-connected device.
ALAT loan can be obtained without completing any paperwork or visiting any physical locations, and the response period between accepting an offer and having your loan disbursed is only a few minutes.
You are not required to put up any collateral to borrow up to N2,000,000 (four million naira). Alat can also be known as Alat by Wema, this is because it was developed by wema Bank in the year 2019.
ALAT CUSTOMER CARE SERVICE
For more inquiries, If finding anything different you can reach out to their customer service on 07000PURPLE
(07000787753), +234-8039003700,
send an SMS to 07051112111
or drop an e-mail: purpleconnect@wemabank.com
ALAT LOAN INTEREST AND DURATION
Alat interest rates are only 2%per month on a reducing balance basis.
For Example: Salary earners will be able to receive a minimum of #50,000 and up to #2,000,000 within hours and will have between 3 to 24 months to pay back with only a 2% interest rate per month on a reducing balance basis.
HOW TO APPLY FOR ALAT LOAN
Log in to the ALAT instant online loan app or sign up if you've not registered before
View the loan offer (amount, due date, and amount outstanding).
Accept the terms and conditions of the loan offer.
Establish a collection on the account assessed for the loan, and if it is on another bank account, a remita mandate will be established on the account.
Your Account will be Credited immediately
ALAT LOAN REPAYMENT
You will receive a repayment reminder at the due date if the instant loan is still to be paid, and your account will then be instantly debited. The client receives a notification of the payback
Additionally, you might want to use the Bills Payment menu option to pay back the immediate loan before the due date.
LOAN CALCULATOR
An alat calculator can be accessible in there website. The instant loans calculator will help you determine the total payments on a loan at 2% monthly loan interest rate. Simply drag the button to the loan amount you want and specify the loan term or loan duration and the total amount to be paid back will be displayed
DOWNLOAD ALAT LOAN APP
head over to your phones app store wether (playstore for Android or Apple store for ios)
click the search button and input the app name (Alat app) then click search
when the app pops up click on download, after download completes click on install
CONCLUSION
For a user looking to borrow loans from Alat loan platform, Alat loan appn is legit and alson safe for transactions. it has a user-friendly for even a newbie to operate and obtain loan instantly, Alat is also a fast-growing platform all around Nigeria