The desire for a comfortable lifestyle has prompted thousands of people to seek more convenient ways of doing things. One such way is to access loans through online digital platforms, as opposed to the tedious process of accessing loans offered by traditional banks.
Unfortunately, this upscale demand for easy and fast loans has led to an increase in the number of dubious loan shark apps on the Internet.  Well, in this article our focus will be on the popular loan app called Rich App. You will discover what the Rich Loan app is all about and what users have to say about it.
Rich Cash Loan App
Rich Cash Loan App is an online platform that offers loan services to individuals. It provides high loan amounts with low-interest rates, catering to various daily consumption needs without requiring collateral. Once approved, the loan amount is directly disbursed to the borrower's bank account. The loan term ranges from 180 days to 365 days. The app targets Indian residents who are employed full-time, earning a minimum salary of Rs 40,000 per month.
It collaborates with registered non-bank financial companies (NBFCs) to provide these loan services. To apply, users need a valid email address and mobile number, and they can increase their credit score by submitting additional documents.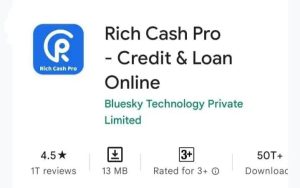 Is Rich Cash Loan Legit (Real or Fake)?
While Rich Cash Loan App presents itself as a legitimate platform for online loan services, there have been numerous complaints and negative reviews regarding its practices. Some customers have reported breaches of privacy, harassment through threatening messages, breach of contract, blackmail, and fraudulent activities. Below are some complaints laid against Rich Cash by its Users.
User 1
I got a loan of 8100 from rich cash and I repaid them after 150 days, yet, they came back asking me to pay the delayed fees and threatened to share my morphed porn images with my contacts.
Users 2
I have taken a loan from a Super wallet agent through the Rich Cash app. And I have paid the payment 1 day before the due date. But after 2 months they are torturing me to make payments again or they will send morphing sexual porn photos of me to my relatives.
These complaints raise concerns about the authenticity and credibility of the platform.
Rich Cash Loan App Customer Care Number
If you need assistance or wish to contact Rich Cash Loan App's customer care, you can reach them at Richcash@richcash-loan.Com. As they do not have an active customer care number.
Conclusion
Well, the saying, look before you leap was never better said. With thousands of loan apps flooding the Internet space, you'll need discernment to be able to decipher legit loan apps from unscrupulous loan apps.
Therefore, it is strongly advised to carefully investigate and gather information before committing to any financial arrangement.