Need Me By Gyakie Mp3 Download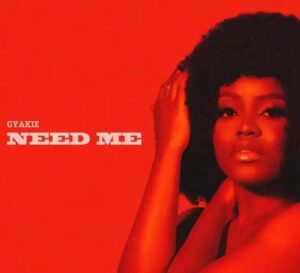 Popular Ghanaian female music star Jackline Acheampong, with stage name Gyakie just released another song titled Need Me to tease her fans. Read Gyakie Need me lyrics below.
Gyakie was born on December 16, 1998 into a musical family, she grew up in Kumasi, Ghana's Ashanti Region we're she was helping her father in the studio at just age of eight before lunching her first single titled love is pretty in 2019.
Download Gyakie Need me Mp3
Gyakie Need me Lyrics
[Intro]
Woyoo (Flip The Music)
Na na na na eyy ya
Gyakie uh huh
[Verse 1]
Baba don't stop, no, don't stop
Come close to me, baby, no, don't stop
I want this daily
I've fallen in love
I cannot deny
What you wanna? mmm
Twe b3n me!
[Pre-Chorus]
I try to go low low low
You got me going low low low
Woyoooo
And when I'm with you oh no no
I misbehave, I kolo
Oh, this is crazy
[Chorus]
But then if you need me now
Tell me now
'Cause I dey one side for you (Oh nananananana)
Babe, and my heart don't lie
It beats so fast, very fast around you
O you dey make I go insane
So insane
O you dey make I go insane
So insane
[Verse 2]
Akosua Dzibordzi
Forget everybody
If you fall, fall hard, odo pa dier 3d3 o
Mmm
I found the onе I need
For this, I'll never leavе
It's for a lifetime, mmm, ibi so
[Pre-Chorus]
I try to go low low low
You got me going low low low
Woyoooo
And when I'm with you oh no no
I misbehave, I kolo
Oh, this is crazy
(But then if you need me now now now now)
[Chorus]
But then if you need me now
Tell me now
'Cause I dey one side for you
(Mmm oh baby, need me now now now now)
Babe, and my heart don't lie
It beats so fast, very fast around you
O you dey make I go insane
So insane
O you dey make I go insane
So insane