Welcome to maobiplus education and research series. Do you know that most research projects start with a proposal. You will probably need to write one before starting your thesis or dissertation.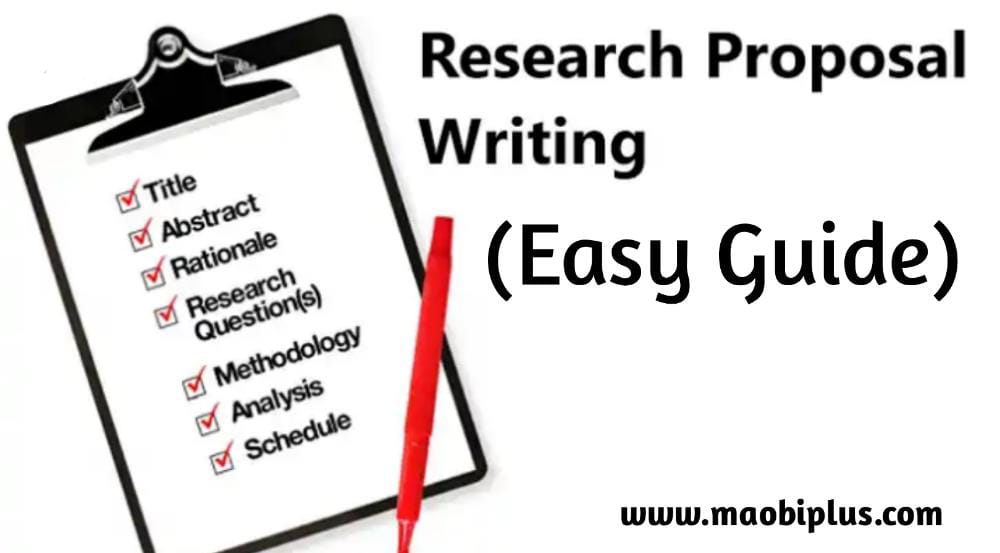 If you want to learn how to write a good research proposal, I'm here to help you achieve your academic goals.
What is Research Proposal?
A research proposal aims to convince someone that your project is worthwhile, for example, your project supervisor. A good proposal always reflects the relevance, context, approach, and feasibility of your project.
The format of a research proposal varies by field, but most proposals should contain at least the following elements:
Now let's see what to include in each element!. The title page of your proposal should contain:
1. Your proposed project title
2. Your name
3. Your supervisor's name
4. Your institution and department of study
The introduction is where you engage the reader and demonstrate relevance. Here you will present the context of your research problem, and demonstrate that your project is interesting, original, and important.
Here are some questions to guide your introduction:
How much do you already know about the problem?
Why is this interesting? (eg policymakers scientists)
What are the main research questions you want to answer?
A strong literature review convinces the reader that your project has a solid foundation in existing knowledge or theory.
It also shows that you are familiar with the field. In this section, you'll explain how your project will contribute to conversations about your topic. If you're not sure where to start, we have a literature review playlist where you can learn about relevant literature searches, describing their structure, and even more! The research concept or methodology section should describe the general approach and practical steps to be taken to answer your research questions.
Here are some things to describe in the research concept section
1. Type of research? so is it qualitative or quantitative, primary or secondary?
2. Sources, who or what are you going to study? Research methods, what tools and procedures will you use? Practical business, predictable obstacles in terms of schedule or required resources?
In research, you can explore the possible significances of the research for theory or practice and enhance what you want to contribute to existing knowledge on the topic.
For example, your results may have importance for: Confirming or developing a theory Proposing current assumptions Creating a basis for future research Naturally, your research proposal should contain good citations and a list of references for whatever source you use.
It's important to track your resources from the beginning. You can easily create and manage your resources with Scriber's free budget generator! Depending on your program requirements, you may need to include a detailed project schedule and budget.
The objective is to demonstrate that the research is viable. On the diagram, explain what you will do at each step, how much it will cost and how much it will cost. We have sample surveys in our article, you can check them out here.
As with any other academic text, it is essential to modify and correct your research proposal before submitting it. For the best chance of passing, consider using a professional proofreading service to remove language errors, check the structure of your proposal, and improve your academic style.
It depends a lot on when the research proposal is. A master's thesis proposal may only be a limited page lengthy, while thesis and research funding proposals are often very long and documented.
So get in touch with your supervisor before commencing any writing, Hope this article will guide you on how to write a good research proposal.
Please remember to share….