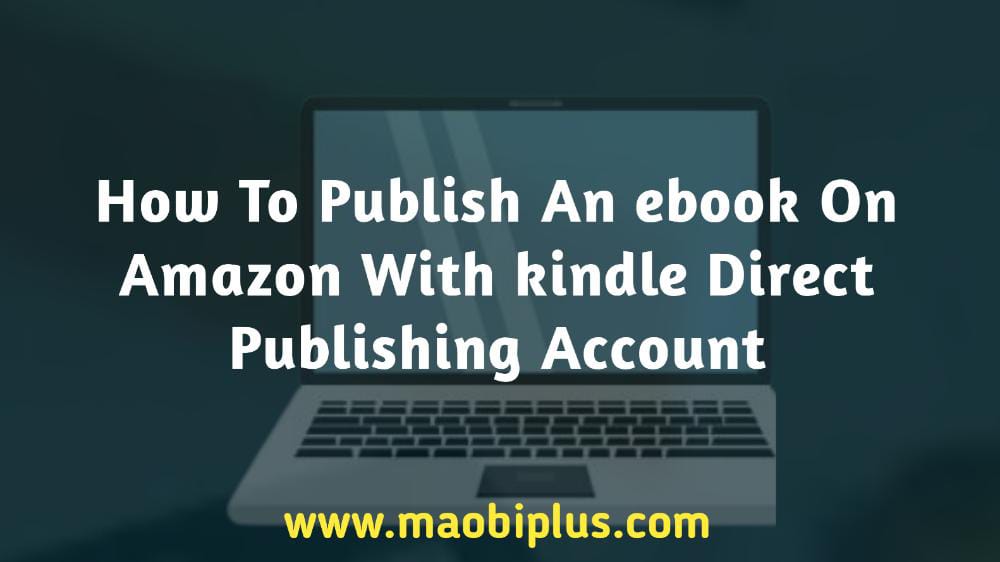 He'll guys, in this class, you shall be learning how to Publish an ebook on Amazon with kindle direct publishing account without issues. before diving into the practical aspect of it, let's define the following terms below.
A. Building your writing skills
C. Kindle Direct Publishing (KDP)
Writing could be very intimidating to lots of people, particularly those who don't write for a living or regularly. The good news is that writing doesn't have to be agonizing and almost anybody can improve in their writing skills, with a little discipline and a willingness to learn.
To build your writing skills, you must first of all START. Even if you feel you were specially anointed to be a great writer, if you don't START, you will never be great.
Yes, the sad reality is that majority of authors write and barely make anything out of their writing.
That's why this training is coming to you, so you can know what to do, to showcase your book in front of a large number of readers through the Amazon platform.
When your book provides a solution to a particular problem, it will sell and may be counted as bestselling.
Take for instance what's currently happening in the country.
Before you can start writing incredible content, you will need to at least understand the principles of writing.
This doesn't mean you must enroll in a prestigious creative writing program at any prestigious Academy, rather you must know the basics of grammar and spelling.
Yes, your editor can help put things in order but not your intention.
If the message you try passing across is misunderstood because of your choice of words, my dear, you're to take the blame and not your Editor.
How To build your writing skills
1. You must be a versatile reader
2.Only write when you're in the mood.
3. Read books written by good author's
4. Write with your chosen topic
5. Avoid trying to add every information you think relevant to an already concluded writing.
How To Publish An ebook On Amazon
Writing a successful Ebook on Amazon requires a simple task and understanding of article writing.
Content Creation
What then is content creation: It is the process of identifying a new topic you want to write about, deciding which form you want the content to take, formalizing your strategy (keyword or otherwise), and then actually producing it.
Content creation is the contributions of information to any media, most importantly to digital media for an end-user/ audience, in a specific context. It can be expressed through some medium, as speech, writing, etc.
The truth is, content creation process is not always as simple as it might seem, but doing it well can truly impact your business.
Also, there are many ways of generating content. You can generate content from whatever you do, whether you are a farmer, carpenter, doctor, Engineer, and so on depending on what you want to write about.
Creating great content starts with a well-established process. I generate most of my content through my life experience, daily happenings within my neighborhood, reading books, and life experiences of other people that am privileged to learn about.
Reading a good book can inspire and motivate you to write.
Must Read: How to make 10k daily On Data Way Affiliates System
The truth is, everyone can be a writer or an author. There are so many things to write about.
Don't be discouraged by grammatical errors, every author makes mistakes, that is why there are editors to shape your work. You don't need to be an English student to write well. Just go ahead and write, the world is waiting for your manifestations
What is Kindle Direct Publishing?
KDP It is a self-publishing platform that allows you to create and manage your Kindle e-book, paperback, and even audiobooks in a single place. It's widely used to build books from the ground up.
You can see how excited I am to call that name, KDP. This is the major reason while you're here, and if you miss out now, we may struggle to find you.
Kindle Direct Publishing, was originally called Amazon Digital Text Platform. It is used by authors and publishers to independently publish their books directly to the Kindle store.
If done correctly, you can expect a successful launch and a substantial amount of passive income.
Passive income? Yes because it enables you to sell eBooks anytime, anywhere without lifting a finger once it's published..
This is why you should learn how to publish An ebook on Amazon and make extra cash for yourself.
Remember:
We live in a digital world and this generation relies on their technology devices for entertainment, information, and education.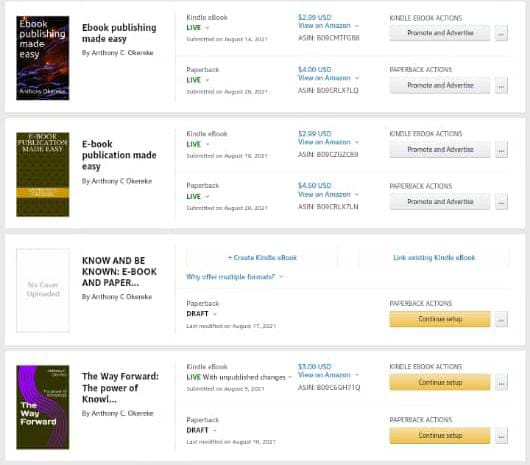 Steps required to achieve a successful Ebook creation and publication
1. Create a Kindle Direct Publishing Account
2. Craft your Book Title & Subtitle
3. Writing Your Book Description
4. Choosing the Right Keywords.
5. Selecting the Right Categories
6. Uploading Your Manuscript
7. Create a book Cover
8. Price Your Book.
9. Save and publish to come alive on Amazon
A book description is essentially a short written narrative that illustrates what your book is all about. It should be written like a sales page to capture the interest of your readers. This is crucial, because the description, in many cases, is the final factor that determines whether the reader will read your book or not. When done correctly, a well-written book description can practically sell a book on its own.
So, how do you want your book to structured?
Keywords
Keywords are specific words or phrases used to describe your book. If someone was looking for a book on your topic, they might type one of those keywords into Amazon or Google. If you want your book to show up on Amazon and Google search engines, you'll need the right mix of keywords. Amazon allows seven keywords per book.
Categories:
Amazon provides a collection of categories and subcategories, to choose from. Like keywords selection, your goal here is to look for the right category your book belongs to.
With all these points above learning how to publish an ebook on Amazon is a problem solved now.
Get ready for our next article on Kindle Direct Publishing (KDP) account creation.